With a vision to nurture health and to usher in a new era of prosperous and healthy society, Wellmed International Industries (P) Ltd. was established in the year 1999. Headquartered in New Delhi, India, Wellmed's operations now span over 4 continents. It has been 18 years now since inception, Wellmed is recognized as a growth oriented perfectionist and is regarded as a partner in progress by its international clients.

Wellmed believes in catering to the needs of its customers through best-in-quality products. We firmly believe that in healthcare, there can be no compromises. This philosophy shapes our mission and primary objectives.

Wellmed is committed to serve the mankind with the highest quality disposables at prices affordable by all. Customer satisfaction is our mantra.
Meet us at:
MEDICA
14th to 17th Nov 2022
Dusseldorf, Germany
Booth No. To Be Announced
Fix Appointment
Arab Health
30th Jan to 2nd Feb 2023
Arab
Booth No. To Be Announced
Fix Appointment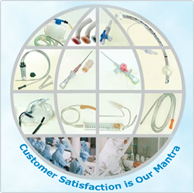 I V Cannula

Injection Port with unidirectional valve for facilitating extra medication and preventing backflow.....




Three Way Stopcock

Designed to facilitate smooth switching of infusion from multiple lines...




Injection Port / Heparin Cap

Designed for providing access to catheter for injecting Heparin or drawing blood through the injection membrane, using syringe......




Guedal Airway

Milky colored Air way made from Non-toxic material..................




Foley Balloon Catheter

An Indwelling catheter used for short/long term urine drainage...




Closed Wound Drainage Set

400/800 CC bellow designed for close wound drainage under negative pressure.....




Thoracic Drainage Catheter

45 CM Long frosted Catheter made of Non Toxic, PVC Compound...




Umbilical Cord Clamp

Serrated Finger grip provided for firm grip even when used with wet gloved hands...




A. V. Fistula Needle

Ultra Thin Siliconized Lancet Point Needle of Japanese origin with Back Eye....



Wellmed Quality Policy: Wellmed is committed to serve the mankind with highest reliability and fit for purpose medical devices.

Wellmed strives not only for customer satisfaction but for Customer's Delight.

We achieve this by communicating exhaustively with our customers and internally with our employees to continually improve our services, products, processes, Quality Management System, methods and work environment to ensure each customer is receiving the highest quality service or product at the committed cost and time.